Organisers
KU LEUVEN
As a research intensive university, KU Leuven aims for excellence in research both on the fundamental and applied level, with a strong inter- and multidisciplinary approach. Through critical reflection, collaboration and passion, the researchers at KU Leuven are on a daily basis engaged towards our society to bring new insights and innovative ideas.
The 8th International Slag Valorisation Symposium is organized by the KU Leuven Institute SIM², of which the lead is taken by the department of Materials Engineering.
SIM² – KU LEUVEN Institute for Sustainable Metals and Minerals
KU Leuven stimulates through different Institutes extensive and interdisciplinary research for topics that remain relevant for the society on the long term. SIM², the KU Leuven Institute for Sustainable Metals and Minerals, is one of these Institutes. SIM²'s mission is to develop, organize and implement problem-driven, science-deep research and future-oriented education, contributing to the environmentally friendly production and recycling of metals, minerals and engineered materials, supporting the transition to a climate-friendly, circular-economy.
The SIM² consortium consists of 17 research groups, covering a wide variety of disciplines from chemistry and chemical engineering to materials, mechanical and civil engineering and from microbial and molecular systems and earth and environmental sciences to law, economy and management. These groups collaborate and interact in 6 Research Lines.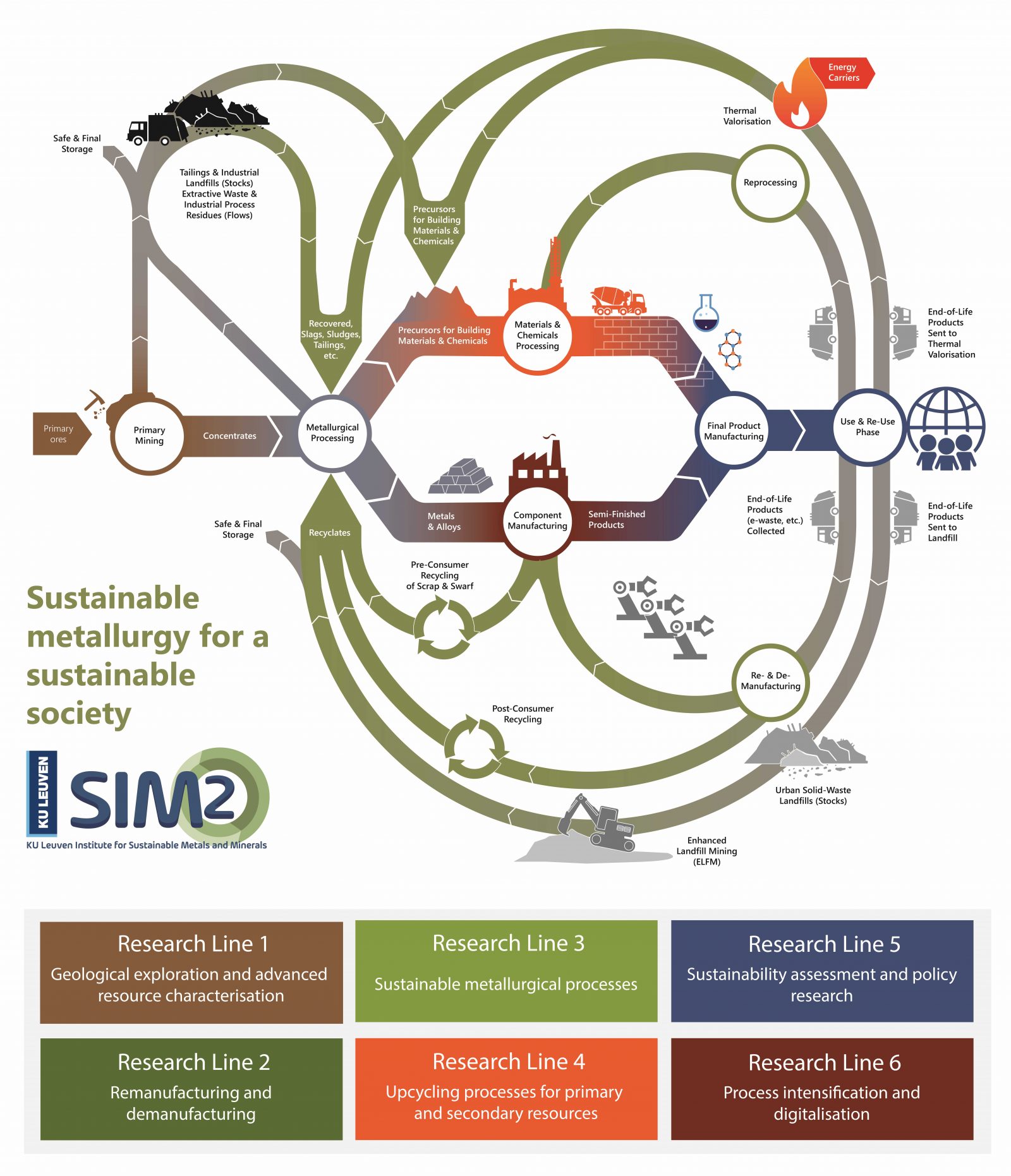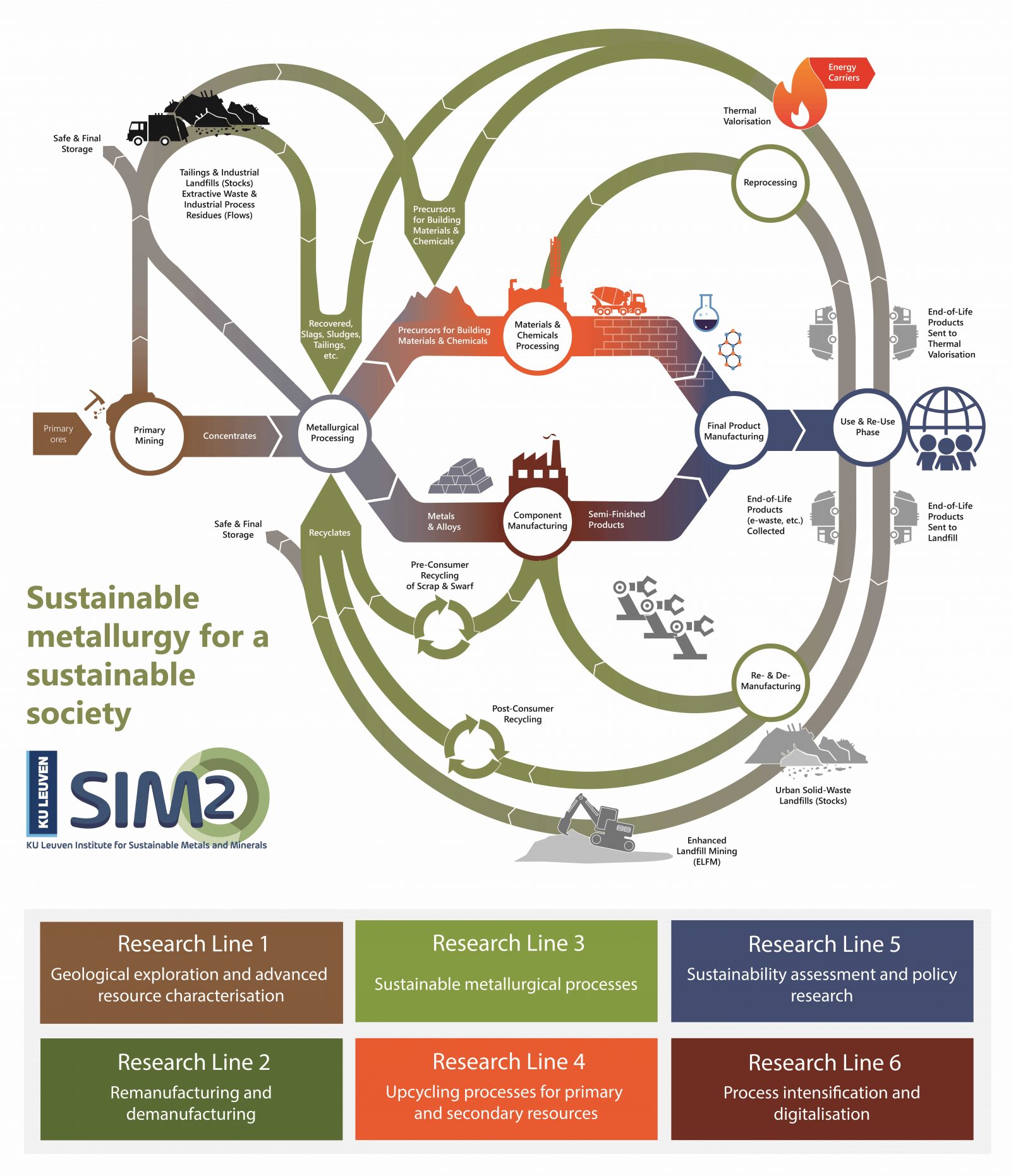 Check out the website for more information about SIM².
Department of Materials Engineering (MTM)
The Department of Materials Engineering (MTM), within the Faculty of Engineering Science, is responsible for education, research and services in the field of materials science, balancing fundamental and applied research under the umbrella of sustainability. Important values are relevance for society, continuity and trust and confidentiality in long-term-co-operation with strong industrial partners.
The research activities at MTM are divided in three divisions:
Structural Composites and Alloys, Integrity and Non-destructive Testing
Surface and Interface Engineered Materials
Sustainable Materials Processing and Recycling
The research at MTM contributes to the development of materials and processes which will co-shape the future. Examples are new or improved recycling processes, biodegradable composites, materials for lithium ion batteries, sensors based on functional materials, …
More information about the department of Materials Engineering can be found here.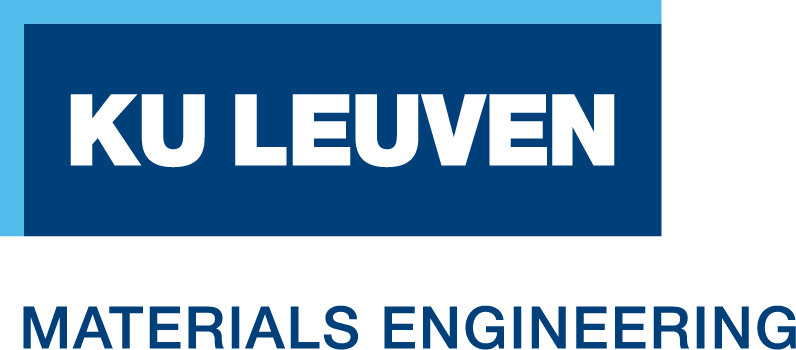 SUPPORTED BY
The Iron Steel Institute of Japan
The Iron and Steel Institute of Japan, well known as ISIJ, was established in 1915, and currently consists of over 8000 individual members and about 170 sustaining members (companies and organizations). Since its establishment, ISIJ has been engaged in activities related to iron and steel and related fields, focusing on (1) the combination of academics and technology, (2) the combination of steel companies, (3) the combination of industry, government and academia, (4) the combination of iron and steel with other fields, and (5) the combination of Japan and overseas.
For further detail, please visit the website of ISIJ.