Host City Leuven
The city of Leuven is located in the Dutch-speaking northern part of Belgium, approximately 25 kilometres east of Brussels. Leuven is the capital of the province of Flemish Brabant in Belgium and has more than 100.000 inhabitants.
Since its founding, KU Leuven has been based in the city that shares its name. Leuven is a pleasant, safe and bustling student town, where centuries-rich history meets cutting-edge science.
More information about the city and must see places when you visit, can be found on the official Tourism Leuven site, or download this City Guide with great tips.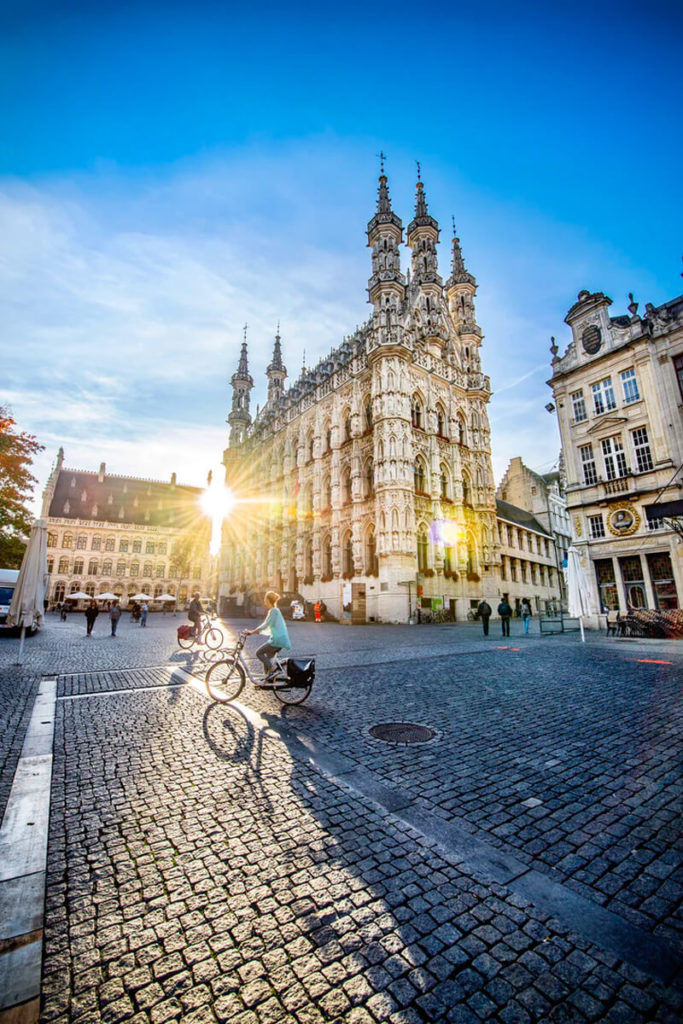 ---
The national airport of Belgium (Brussels Airport) is the closest to Leuven (25 km). The easiest and cheapest way to reach Leuven from the airport is to take the train to Leuven, which runs twice per hour and costs € 9.30. Alternatively, you can grab a taxi outside the airport. A taxi ride to Leuven will cost you at least € 50.
Some airlines will fly to Brussels South Charleroi Airport (85 km from Leuven). From there, you can either take a shuttle to Charleroi-Sud train station, where you can take a train to Leuven - with a change in Brussels-South - that runs every half hour. A shuttle-train combi ticket costs € 15.60. Alternatively, you can take a shuttle bus to Brussels (€ 14.70) and hop on a train to Leuven (€ 5.50) there.
The train station of Leuven is located at the border of the city and lies within walking distance of the city centre. There are regular connections to every major city in Belgium and to Brussels Airport. More information on schedules and fares can be found at www.belgianrail.be.
Coming from Brussels or Liège (E40), take the E314 and then exit n°15, 17 or 18. Follow the signs to the ring road (R32) and choose to correct traffic loop for your hotel.

The historical centre of Leuven is traffic-free. The rest of the city centre is subdivided into 5 districts. In each district a loop directs traffic from the ring road to a city centre parking garage and back to the ring road.
We advise you to park your car in one of the more advantageous ring road car parks.
Key Dates
Abstract submission

Closed

Paper submission deadline

January 10, 2021

Early bird registration

January 31, 2021

Symposium

April 2021